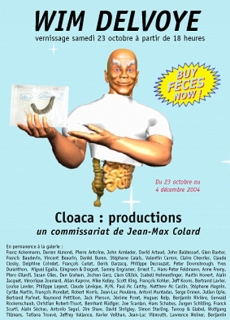 Cloaca : Produits dérivés
En réponse à une invitation de la galerie des Multiples, cette exposition monographique propose de montrer les produits dérivés de Cloaca, la fameuse machine à merde de l'artiste belge Wim Delvoye. Prenant la forme ironique d'un concept-store ou d'un magasin de produits de beautés extrêmement clean, l'exposition montrait des merdes emballées sous-vide, agrémentées de tee-shirts et de canettes de Coca-Cola-Cloaca.
In answer to an invitation of the Galerie des Multiples, this solo exhibition suggests showing the by-products of Cloaca, the famous shit-machine made by the belgian artist Wim Delvoye. Taking the ironic shape of a concept-store or an extremely clean store of cosmetics, the exhibition showed paked-vacuum shits, with T-Shirts and Coca-Cola-Cloaca cans.