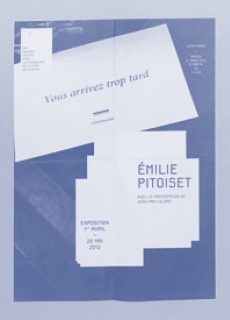 VOUS ARRIVEZ TROP TARD
"Vous arrivez trop tard, cérémonie" est une exposition conçue, "écrite" et réalisée par l'artiste Emilie Pitoiset et Jean-Max Colard, avec l'aide de Catherine Robbe-Grillet. Ensemble, ils ont imaginé une fiction de cérémonie, inspirée par le roman "La Maison de rendez-vous" d'Alain Robbe-Grillet. Les éléments disposés dans cette ancienne église transformée en centre d'art imaginent ou déconstruisent cette cérémonie, laissant au spectateur le soin d'en reconstieuer point par point le déroulement.
"Vous arrivez trop tard, cérémonie" is an exhibition conceived, "written" and realised by the artist Emilie Pitoiset and Jean-Max Colard, by means of Catherine Robbe-Grillet. Together, they imagined a fictious ceremony, inspired by the novel "La Maison de rendez-vous" by Alain Robbe-Grillet. The various elements installed into this old church transformed into a art space are offering the possibility to imagine, or to deconstruct this ceremony. The viewer is invited to reconstitute point by point the procedure of the ceremony.
Centre d'art Les Eglises, Chelles, du 1er avril au 20 mai 2012.